It wasn't too long ago that some pundits were writing the obituary of the Republican Party. They jumped the gun.
While not out of the woods, there are clear signs that the Republican Party is off life support.
In a recent national survey conducted for the Republican State Leadership Committee, the Republican Party brand shows signs of new life. Compared to 18 months ago, general feelings about the Party have recovered a bit. Voters are not in love with the GOP yet, but perhaps in a reconciliation period.
The chart below shows the mean thermometer rating of the Republican and the Democratic Parties, comparing data from 2008 and 2009 (0=cold/unfavorable, 100=warm/favorable).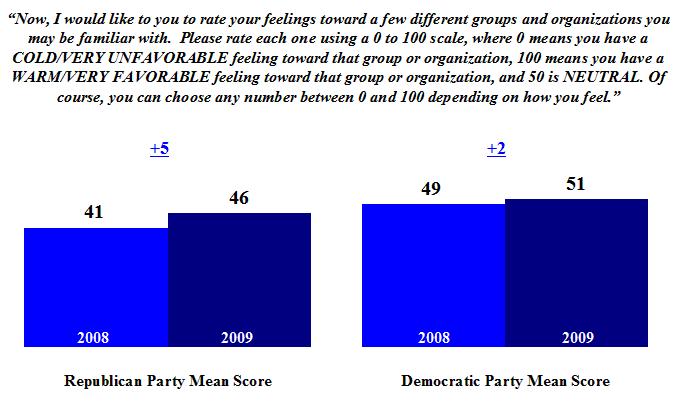 There's also been movement among key political sub-groups, including Hispanics, white women, and Independents. In fact, among Independent voters, the image of the Republican Party (45) and the Democratic Party (46) is now essentially the same.
Even more importantly, voters are regaining their confidence in the ability of the GOP to solve problems. In February of 2008, the Democratic Party had a nine-point advantage on how voters felt they would handle the issue of "economic growth and job creation." The Republican Party is back on even footing – actually asserting a one point advantage – after these first six months of the Obama Administration.
Republicans have also now re-asserted a dominant advantage over Democrats on the critical issues of "reducing state government spending" and "cutting taxes." At the same time, voters are losing faith in the Democrats' ability to "ensure affordable health care."
These are all very positive indicators. We'll have to go further to re-build in terms of presenting real alternatives and a better vision, but the road back feels better than the demise of the last several cycles.